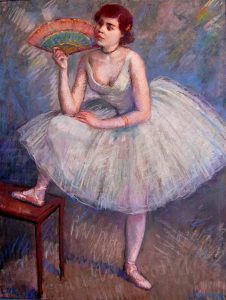 This month,
Ballet Dancer with Fan,
by Louis Kronberg is the focal point of a special exhibit of ballerina paintings created during the
3rd Annual St. Augustine Plein air Paint Out. 
As people gathered at the Lightner Museum After Hours Social to celebrate the opening of the Edgar Degas: Circle of Friends exhibit, Sarah Owens from The Perla Ballet of the St. Augustine Dance Conservatory took center stage on the Mezzanine. More than a dozen plein air artists captured her likeness in the same spirit and style of Edgar Degas.