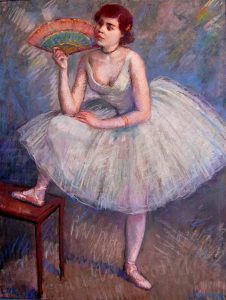 This month, Ballet Dancer with Fan, by Louis Kronberg is the focal point of a special exhibit of ballerina paintings created during the 3rd Annual St. Augustine Plein air Paint Out. As people gathered at the Lightner Museum After Hours Social to celebrate the opening of the Edgar Degas: Circle of Friends exhibit, Sarah Owens from The Perla Ballet of the St. Augustine Dance Conservatory took center stage on the Mezzanine. More than a dozen plein air artists captured her likeness in the same spirit and style of Edgar Degas.
An American figure painter, Louis Kronberg studied art at the School of the Museum of Fine Arts in Boston and the Art Students League in New York. He studied under Impressionist artists Edmund C. Tarbell and Frank Weston Benson before earning a Longfellow Traveling Scholarship that swept him into the broader realm of art.
While much of Kronberg's career was spent throughout France developing his French Impressionist art style, it was his time in Paris studying the pastels and oils of ballerinas painted by artist Edgar Degas that captivated him. In fact, this featured work by Kronberg from the St. Augustine Art Association's Permanent Collection draws direct comparisons to those by Frenchman Degas, not only in subject matter but particularly in style. There's an unmistakable influence found within the soft and harmonious colors of the Ballet Dancer with Fan that demonstrates the artist's flourishing inspiration.
This season, the St. Augustine Art Association celebrates its 95th Anniversary by regularly featuring selections from the Permanent Collection in a "Parade of Art." Louis Kronberg's elegant and timeless pastel has been showcased as both a nod to Degas and an inspiration to contemporary artists who carry his legacy forward. The exhibit is featured in the Faith and Joseph Tiberio Gallery through May 26, 2019.